Rental Returns
Rental Flyer
Thank you for your interest in renting an instrument from KBI Music Shoppe!
Our online rental makes it simple and easy for you to reserve your child's band instrument.
Check LOCAL SCHOOL DELIVERY tab for the days we visit your child's school. If you need maintenance or accessories, contact us the day before
and we will deliver to the school.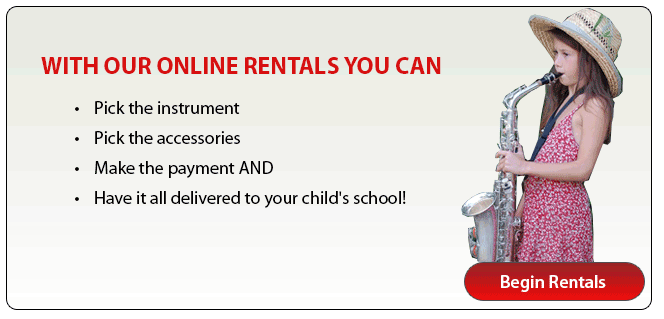 Our Rent to Own Program is a win/win for you!
Band Instruments and Full Size Orchestra which include 4/4 Violin, 15" Viola, and 4/4 Cello
We offer 3 Condition Levels of Band Instruments We offer 2 Condition Levels of Full Size Orchestra
NEW - New Instrument NEW - New Instrument
CHOICE - Previously rented showing slight signs of use Ecomony - Previously Rented
ECONOMY - Previously rented showing mulitple signs of use
About Our Rental Program
*Back to School Special -3 Month Trial Period- June 30- October 15. Pay for your first month and get the next 2 months FREE!
Our affordable monthly rates makes renting a great option.
The month to month agreement means you can cancel at anytime without penalty by simply returning the instrument to KBI Music Shoppe.
All of your rental payments are applied toward the purchase of the instrument so if your child continues in band your instrument will be paid in full quickly. (Maintenance & Replacement Insurance is not applied to the purchase price)
Maintenance & Replacement Insurance (M&R)...This required insurance will give you peace of mind while you are renting the instrument. (Please read the Rent to Own Terms and Conditions for details of the M&R)
If your instrument needs repair then we provide a loaner (subject to availability) while your instrument is in the shop.
Click here for Rent to Own Contract Details